Suitable for use on any types of material. This is unique tungsten carbide tipped hacksaw blades a real long-life product.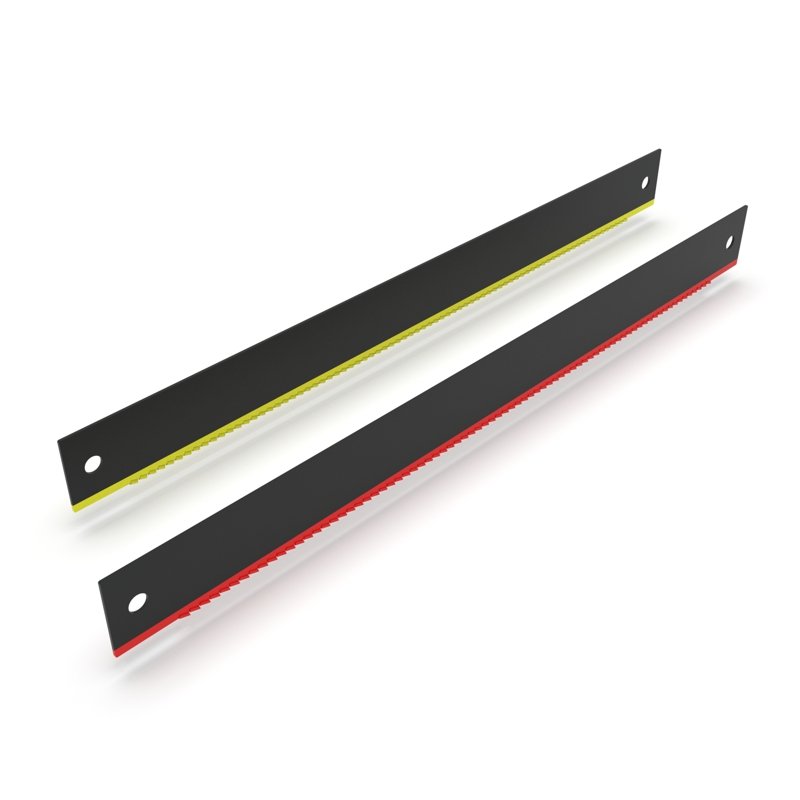 Correct blade tension is essential for ensuring a straight kerf and a long useful life of the blade. If the tension is too low, the blade will bend upwards or twist, giving rise to high stresses, heavy wear of the blade and uneven, crooked kerfs. Excessive tension causes high stresses in the blade and saw frame.
As a general rule, harder materials call for a lower stroke rate and higher feed pressure. If the chips are burnt, feed pressure is too high. Fine, powdery chips indicate that feed pressure is too low. Fine curled chips indicate the optimal feed pressure.
The teeth should not be touching the workpiece when the machine is started. A useful rule of thumb is that at least three teeth should be engaged at any time.
Red/Black Label – standard tungsten carbide teeth
Item#: DT217 – Length 300mm – Tooth pitch 6mm / 5TPI
Item#: DT222 – Length 350mm – Tooth pitch 6mm / 5TPI
Item#: DT223 – Length 400mm – Tooth pitch 6mm / 5TPI
Item#: DT224 – Length 450mm – Tooth pitch 6mm / 5TPI
Item#: DT225 – Length 500mm – Tooth pitch 6mm / 5TPI
Item#: DT226 – Length 550mm – Tooth pitch 6mm / 5TPI
Item#: DT227 – Length 575mm – Tooth pitch 6mm / 5TPI
Item#: DT228 – Length 600mm – Tooth pitch 6mm / 5TPI
Item#: DT229 – Length 650mm – Tooth pitch 6mm / 5TPI
Item#: DT230 – Length 700mm – Tooth pitch 6mm / 5TPI

Yellow/Black Label – hollow point tungsten carbide teeth
Item#: DT300 – Length 300mm – Tooth pitch 6mm / 5TPI
Item#: DT301 – Length 350mm – Tooth pitch 6mm / 5TPI
Item#: DT302 – Length 400mm – Tooth pitch 6mm / 5TPI
Item#: DT303 – Length 450mm – Tooth pitch 6mm / 5TPI
Item#: DT304 – Length 500mm – Tooth pitch 6mm / 5TPI
Item#: DT305 – Length 550mm – Tooth pitch 6mm / 5TPI
Item#: DT306 – Length 575mm – Tooth pitch 6mm / 5TPI
Item#: DT307 – Length 600mm – Tooth pitch 6mm / 5TPI
Item#: DT308 – Length 650mm – Tooth pitch 6mm / 5TPI
Item#: DT309 – Length 700mm – Tooth pitch 6mm / 5TPI