Unique designed trimming tools for precise operator control when working in aluminum, copper, brass, rubber, PVC, plastic, composites, fiberglass and urethane.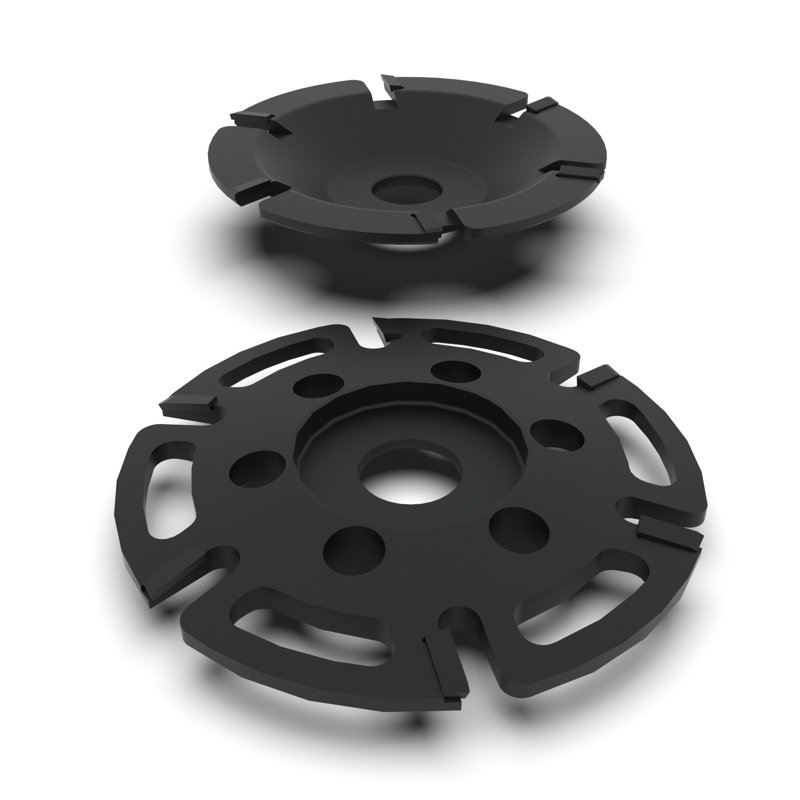 They suits most 125mm/4 ½" angle grinders. The tools is fitted with 6 large tungsten carbide teeth which provide a long blade life and make quick work of normally tedious trimming and shaping jobs.
These blades is machined from solid steel and as a result, provides excellent balance and control for the user leaving an excellent finish – near-perfect, burr-free finish with one wheel. At high RPM's (up to 12000 rpm) the tools provide smooth operation and ease of use in creating both flat and curved faces on the materials being worked.
The depth of cut can be easily controlled by varying the angle of attack of the blade to the material. This is universal trimming tools that can be used in a number of ways to create different profiles and finishes. From being used flat, to create large flat surfaces and edging to trays etc. or used at an angle to provide shallow cuts for fine shaping and workmanship.
Black Label with conical disc shape
Item#: DT218 – Dia. Ø80mm with 6 tungsten carbide cutting edges
Item#: DT220 – Dia. Ø125mm with 6 tungsten carbide cutting edges
Black Label with flat disc shape
Item#: DT159 – Dia. Ø100mm with 6 tungsten carbide cutting edges
Item#: DT160 – Dia. Ø125mm with 6 tungsten carbide cutting edges